Providing bespoke Mural painting and artwork services for the UK, and beyond.



Latest News
Coronavirus - After the easing of restrictions I am doing a little work in a playcentre which has been closed since a week before the lock down, and rigorously cleaned thereafter. Any instances of the virus should have gone from surfaces, however I am exercising frequent hand washing and social distancing measures while working there.
In the pipeline are plans for various pieces of artwork to be created for Northampton General Hospital, which I will be working on at home over the summer, for the Paddington Ward.
Any enquiries for artwork and murals will be responded to in the usual way, however any work I undertake will be assessed for the risk involved, and so may be scheduled later than usual.
Thanks and look after yourselves, Neil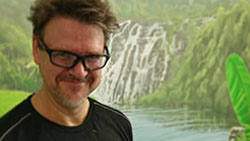 NEIL WILKINSON-CAVE
MURAL ARTIST
Hello and welcome to Sacredart Murals 2020, now in its eighteenth year - My name is Neil and I have been painting colourful artwork all my adult life and fabulous murals professionally since 2002. I provide bespoke hand-painted murals for private homes, including children's murals, lifestyle and classical murals, and decorative painting, and cater for the commercial, educational and social care sectors. See my portfolio in the various galleries, they represent a cross section of the work I have been asked to do, (but not all that I could potentially do, set me a challenge!) So if you feel inspired and think I might be able to help with your project then
contact me
, I'd love to hear from you to discuss any ideas you have, and will happily put together a price estimate for you, without obligation.
HAND-PAINTED MURALS


I've hand-painted hundreds of mural commissions large and small around many spaces, mostly children's bedrooms and playrooms, but also more unusual spaces such as swimming pools, garden rooms and outdoor walls, in games and cinema rooms, on the side of a boats and vans, in hospitals, play groups, schools etc. My main clientele are parents wanting a great quality children's mural, but I also like to create believable trompe l'oeil as well as other beautiful artworks for anyone with an idea, a dream, and a fair budget.


PROFESSIONAL BESPOKE MURAL ART
When creating a new artwork I work closely with the client, architect or designer to achieve the desired result. I can work fast to cover large areas and keep costs down and meet a deadline, or for larger budgets more meticulously on higher levels of detail.
Although based in a quiet corner of south west England, I provide my services all across the UK and internationally, for both domestic and commercial sectors. So whether you'd like to play a trompe l'oeil visual trick in a nook or niche of your home, enhance your business's atmosphere with a feature wallmural or visual theme, or give your kid's bedroom the wow factor, I can produce something creative, artful and beautifully tailored to fit your world.
Services include:



"...Neil Wilkinson Cave magically transformed our school library with the beautiful literary themed woodland mural that you see pictured. Neil is incredibly talented and you should not hesitate to get in contact with him if you have a school, community or even personal space that you would love to transform. I would recommend him one hundred times over - you really should get in contact with him if you even have a seed of an idea about a space you'd like to change!" Kate Munkenbeck Stannard (Aardman, & Parent at Lydeard St. Leonards Primary School).

"Thank you @sacredart_murals for Lyla's new bedroom painting on her wall... We absolutely love it! She will make many happy memories playing in here with her friends. I keep going in there just for a peek, I think we may swap bedrooms with the baby now :) We are so pleased.. Really recommend anyone who wants this done it's very much worth every penny." John and Nadia Burns



H
a
v
e
a
c
o
l
o
u
r
f
u
l
d
a
y